Fall migration is the perfect time to plan a visit to an Alabama Birding Trail! The University of Alabama Center for Economic Development (UACED), The Alabama Tourism Department, the Alabama Department of Conservation and Natural Resources, The Birmingham Audubon Society, Alabama Ornithological Society and Federal partners, the U.S. Army Corps of Engineers  and the National Forest Service, www.fs.usda.gov/alabama have partnered over the past 10 years to develop the eight birding trails of Alabama. The Alabama Birding Trails include eight regional areas throughout the state that are recognized as North Alabama, West Alabama, Appalachian Highlands, Piedmont Plateau, Black Belt Nature and Heritage, Pineywoods, Wiregrass and the Alabama Coastal Birding Trail. Each region has well-known sites that are currently being used by many birders and visitors as they enjoy their natural surroundings.
UACED has been involved in the promotion of events and provided the leadership role of facilitation and project management for these Alabama birding trails. Visit the website (alabamabirdingtrails.com) and click on "events" to check out 25+ birding events through the end of the year. Several of these events include unveiling of informational panel/signs that are being implemented by The Alabama Birding Trails partners and sponsors. The informational signs include both regional and statewide information about birding trails and the kinds of birds you can spot throughout Alabama.
Fall migration brings the birds that have spent their summers breeding in the northern United States, Canada and beyond, over the Southeast as they head to their winter homes. Don't miss the sign unveiling for the Wiregrass Birding Trail at 11:00 at Florala Wetlands Park in Florala, AL on September 20th. The Florala Wetlands Park location is one of twenty official sites on the Wiregrass Birding Trail. Recently a sign unveiling was held for the Piedmont Plateau Birding Trail at the Fort Toulouse/Fort Jackson National Historic Park in Wetumpka, AL.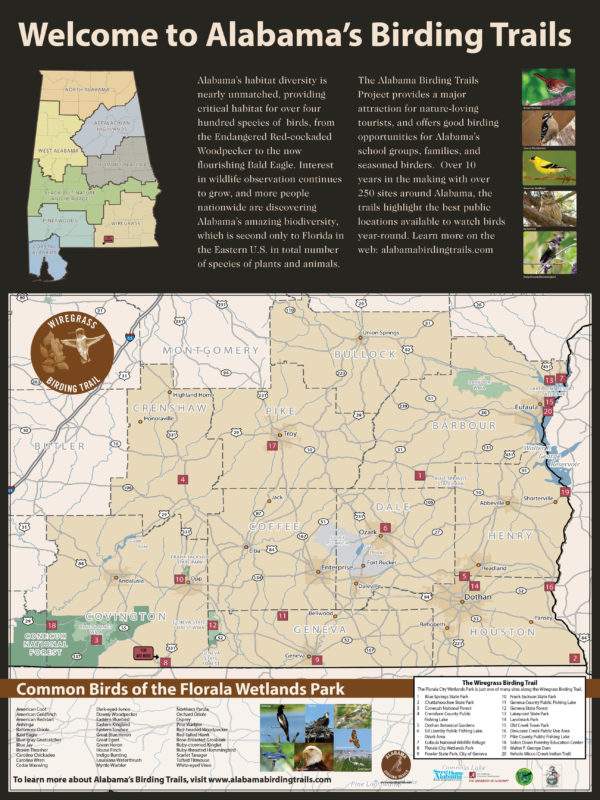 Ms. Joanne Ninesling, a consultant for the Piedmont Plateau Birding Trail will be presenting Alabama Birding Trail information to the Senior Adult Retreat at the Church of God facilities in Springville, Alabama scheduled for September 22, 23 & 24th.
Other fun and educational events are scheduled from September through December. Check out the website and plan your next event to an Alabama Birding Trail! alabamabirdingtrails.com/events/
Alabama's abundant resources offer bird-watching adventures for many; but not just for the avid or seasoned birder. Birders of all ages and skill levels can enjoy watching an extensive variety of our avian friends. People that simply appreciate nature and enjoy learning about the habitats of animals and birds of Alabama are encouraged to enjoy the eight Alabama Birding Trails. The trails include all of Alabama's landscapes (270 locations), ranging from swampy marshes, beautiful white sandy beaches, rolling fields and pastures to rugged mountains and deep thick forests. Alabama has over 400 species of birds that have been spotted in our borders. Bird watching has become an economic driver for Alabama as it has created a significant cost-effective impact for our state over the past decade attracting visitors from the U. S. and nationally. Now is the time to become aware of the amazing species of birds, animals and plants of Alabama.
UACED, www.uaced.ua.edu/ is staffed with specialists in Community, Economic, Tourism and Outdoor Recreation Development and provides a range of services including research, analysis, project development and management, and strategic planning. Often, UACED pulls from external resources throughout the state that can provide added expertise. As an example, UACED and partners have worked over the past 10 years, to enhance the nature-based knowledge of recreational bird watching. Communities across the State of Alabama can look to resources at The University of Alabama Center for Economic Development to become stronger, more economically competitive, and more enjoyable places to live. Also known as "UACED," the Center was founded in 1987 as a gateway to University of Alabama economic development and technical assistance resources, and for the past 29 years has been a catalyst for economic prosperity in the state.
Visit the Alabama Birding Trails website, alabamabirdingtrails.com/events/ to learn of upcoming educational events planned among the eight birding trails. And Follow us on Facebook to stay up-to-date on all the fun! facebook.com/AlabamaBirdingTrails/