Piedmont Plateau | Elmore | Best Seasons: Fall | Spring
This slideshow requires JavaScript.
Corn Creek Wilderness Park is a heavily wooded park on the banks of Corn Creek and the Coosa River. This beautiful and isolated site offers good birding opportunities.  You can walk the overgrown  1+ mile of trails in the mixed pine and hardwood forest for woodland birds. The junction where the creek flows into the river of course offers various opportunities for seeing water birds. Scan the skies for birds of prey. Great birding opportunities also can be found all along the gravel road up to the bluff.  The park has many benches and picnic tables for family gatherings, and weekends in fine weather may be crowded.  The best times to visit are weekdays and/or early mornings on weekends and holidays.
GPS: 32.5598553  -86.20246
Directions:
From Montgomery, take Highway 231N through Wetumpka.  After passing Highway 14, turn L in approximately one mile, directly across from prison.  Follow Gravel road one mile through woods to park.
Amenities Available:
Piedmont
---
Nearby Sites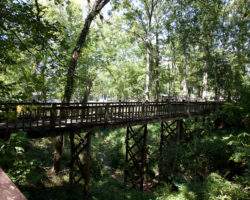 Gold Star Park is a small park in the city of Wetumpka featuring an excellently designed and executed walking trail with very good birding right along the Coosa River. The trail encompasses a surprising variety of habitats – forest, riverbank, and mo …
The Yates Lake Forever Wild Tract offers excellent woodland birding along the shores of the Tallapoosa River.  Visitors can access a variety of woodland and riparian habitats via several miles of hiking trails.  Spring and Fall seasons offer great op …