Piedmont Plateau | Elmore | Best Seasons: Fall | Spring | Winter
This slideshow requires JavaScript.
The Alabama Nature Center at Lanark offers 350 acres of forests, fields, streams, wetlands and ponds that are traversed by five miles of boardwalks and trails in three regions: Still Creek Run, Turkey Ridge, and Hilltop Pass. The trails provide easy access to the surrounding woodlands to look for Summer Tanagers, Great Crested Flycatchers, Eastern Wood Peewees, Wood Thrushes, and Yellow-billed Cuckoos. In winter, expect Ruby-crowned and Golden-crowned Kinglets to join the local feeding flocks in the trees, with Hermit Thrushes below. The small bridge on the entrance road spans an occasional stream which is an excellent place to seek out Louisiana Waterthrushes and Acadian Flycatchers in the warmer months.
The central portion of the property near the Nature Center is open and easily accessible, providing excellent sight lines. It is populated by Eastern Bluebirds, Downy and Red-bellied Woodpeckers, White-breasted Nuthatches, and Brown Thrashers. In the open fields to the west of the main house, you may see Eastern Meadowlarks, Field and Chipping Sparrows, and Killdeer throughout the year. If it's a wet winter, look for American Pipits, and the occasional shorebird in migration. Scan the skies over the fields for soaring hawks. Mississippi Kites breed in the area and may congregate above the open fields in late summer, along with Swallow-tailed Kites. The same open fields may attract the occasional Northern Harrier in the winter, and Horned Owls may stand sentinel over the fields in the evenings.
The Alabama Nature Center provides a gracious, attractive landscape with a variety of habitat types in close proximity. It should be a good location to scout for migrant songbirds in spring and fall.
The NaturePlex is open 6 days/week from 9:00 a.m. to 5:00 p.m. Alabama Nature Center Members are able to come out on Sundays from 1:00 p.m. to 5:00 p.m. through their personal card access.
GPS: 32.4735563 -86.38162
Alabama Nature Center, Alabama Wildlife Federation
3050 Lanark Road
Millbrook, AL 36054
Toll Free – 1.800.822.9453
Site Accessibility
The facility itself is accessible, with restrooms that provide access for those with mobility challenges. There are several small, hard packed gravel roads that, while not technically accessible, do provide easy walking and a degree of wheelchair access, particularly for those who have a good bit of upper body strength or have a companion who can assist. Most of these roads are fairly level and well maintained. Within a couple of hundred yards of the main facility is a large, open field that is bordered by the road. During late spring and summer months, Mississippi Kites often nest here.
Directions:
From I-65 at Prattville, take exit #179 (many restaurants, modern motels, and service stations) and turn onto US Highway 82 East. Pass under the interstate and take a left (north) turn onto S. Edgewood Drive. Follow to the "T" intersection and turn right (east) onto Edgewood Road, then left (north) onto Lanark Road.  
Visit site website
Visit site Facebook page
Amenities Available: Picnic Tables, Restrooms, Wheelchair Accessible
Piedmont
---
Nearby Sites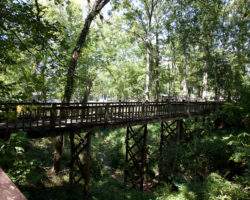 Gold Star Park is a small park in the city of Wetumpka featuring an excellently designed and executed walking trail with very good birding right along the Coosa River. The trail encompasses a surprising variety of habitats – forest, riverbank, and mo …
The Yates Lake Forever Wild Tract offers excellent woodland birding along the shores of the Tallapoosa River.  Visitors can access a variety of woodland and riparian habitats via several miles of hiking trails.  Spring and Fall seasons offer great op …